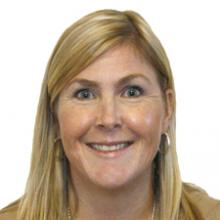 Denise Daley
Associate Professor
About
Dr. Denise Daley completed a PhD in Epidemiology and Biostatistics at Case Western Reserve University in 2003, followed by post-doctoral training at the University of British Columbia . In 2008 she was awarded a Tier II Canadian Research Chair (genetic epidemiology of common complex diseases) and appointed as an Assistant Professor at the University of British Columbia and in 2013 she promoted to Associate Professor and her Canadian Research Chair was renewed until 2018. She has received numerous awards including a Michael Smith Foundation for Health Research Career Scholar Award and the CIHR Institute of Genetics Maud Menten Prize in recognition of her outstanding achievements Dr. Daley's interests are in the study of complex diseases such as cancer, asthma, and heart disease, with a focus on gene-gene and gene-environment interactions. More recently her work has expanded into understanding epigenetic factors that contribute to complex diseases, by incorporating genetic and epigenetic risk factors into risk prediction algorithms to be used in personalized medicine and population genomics research. Dr.
Daley leads a computational lab and supervises graduate students in Bioinformatics, Statistics and Experimental Medicine and she is always looking for exceptional students and post-docs to join the team.
Education & Training
BS, Sociology, University of Utah (1989)
BS, Medical Sociology, University of Utah (1999)
PhD, Epidemiology & Biostatistics, Case Western University (2003)
Area of Interest
Dr. Daley is utilizing cutting-edge statistical, epigenetic, and bioinformatic techniques to obtain a better understanding of how inherited genetic variants and environmental exposures interact to modify the risk for developing disease. Her lab has completed several genome-wide association and sequencing studies to identify genetic susceptibility to common complex diseases such as asthma, food allergy, allergic disease, healthy aging, and COPD. The lab has recently initiated new studies focused on understanding the "epigenome", or in evolutionary terms the genome's response to environmental exposures.
Understanding how environmental exposures, in early life and in utero interact with the genome are crucial to understanding the etiology of many common complex diseases. The developmental origins of health and disease (DOHaD) hypothesis posits that environmental stimuli and exposures influence developmental pathways during critical periods of prenatal and postnatal development. Based on evolutionary concepts, the DOHaD theory surmises that predictive adaptive responses of the fetus to in utero environmental cues promote a phenotype that is optimally suited for the postnatal environment.  Allergic disease such as food allergies (FA), asthma, atopy and other allergic traits the result of the interaction of genes and the environment. Dr. Daley's research is focused on better understanding the etiology of these diseases and the modifiable risk factors associated with them. The aim is to identify individuals who are at the greatest risk and develop biomarkers and public health interventions.
Dr. Daley is studying the genetic susceptibility to asthma and other allergic conditions and the genetic and epigenetic mechanisms that may be involved. Further study of the interaction between genetic and environmental factors will create better understanding of some children develop asthma and others do not, identifying modifiable environmental risk factors which can lead to better treatments for these life-long conditions. To accomplish these goals, Dr. Daley is leading an international team of researchers from across North America and the Netherlands, in a collaborative effort to understand the genetic and environmental determinants of asthma and allergic disease.
Dr. Daley has an active training program and is currently recruiting graduate students and post-docs who are interested in statistical genetics, genetic epidemiology, and bioinformatics. If you are looking for a supervisor please feel free to e-mail her at denise.daley@hli.ubc.ca.
Team Members
Ming Wan, MSc – Statistician
George Ellis, BSc – Software Developer
Denitsa Vasileva, BSc – MSc Student in Bioinformatics
Andy Wang – BSc Co-Op Student, SFU Data Sciences
Bryce Wilson – part time programmer, BSc student (mathematics and computer science)
Irem Yucel, BSc- MSc Student in Bioinformatics
Alternate Webpage
Publications