HLI Members at the 2023 ATS Conference
The American Thoracic Society (ATS) Conference is one of the largest and most prominent medical conferences in North America for researchers and clinicians in the pulmonary, critical care, and sleep medicine fields. It covers a wide range of topics, including both basic science research and clinical practice, making it a comprehensive event for professionals in the field. Each year, the conference attracts over 14,000 professionals who gather to present the latest research advancements, meet with international colleagues, and foster new collaborations. This year, the conference was held in Washington DC from May 19-24th, and it was particularly notable as it marked the first-time pandemic restrictions were not enforced. This significant change allowed for a greater number of attendees and enhanced opportunities for networking and connecting with colleagues in the field.
Several HLI members attended this year's conference, including Firoozeh V. Gerayeli, a PhD student in Dr. Don Sin's lab, who tells us about her experience.
Tell us a bit about yourself and your research.
I obtained my bachelor's degree from SFU (Simon Fraser University), where I had the opportunity to work as a research assistant. This experience sparked my passion for research and inspired me to pursue graduate studies. I am currently in my 3rd year of a PhD program. My research is focused on using single cell RNA sequencing to study alterations in the airway mucosa in individuals with long COVID who experience persistent pulmonary symptoms, as well as patients with chronic obstructive pulmonary disease (COPD). The primary goal of my work is to explore the alterations that occur at the cellular level and analyze the patterns of gene expression associated with these respiratory conditions. By gaining a deeper understanding of these changes, my aim is to identify potential new therapeutic approaches and improve our overall knowledge in this field.
Why did you choose to go to the ATS conference this year?
For young researchers, ATS provides a great opportunity to explore new knowledge and contribute to advancements in the field. This conference facilitates learning from experts in various disciplines and how challenges in the field are being tackled. As a student you also get the opportunity to present your work and get feedback from the world's experts, network, and find potential collaborators that help with advancement of your research project. I was fortunate to get the chance to present my work on the airway mucosal abnormalities in post-COVID-19 patients with persistent pulmonary symptoms using single cell RNA sequencing. This was quite exciting, since the results of my analysis showcased, for the first time, biological differences in the airways of individuals with long COVID-19 who have persistent pulmonary symptoms compared to ones who do not have symptoms post-infection. One such difference was a shift in the T cell subtypes towards a cytotoxic phenotype alongside upregulation of antiviral response genes. For this work, I was awarded an abstract scholarship from ATS Structure & Function Assembly (RSF).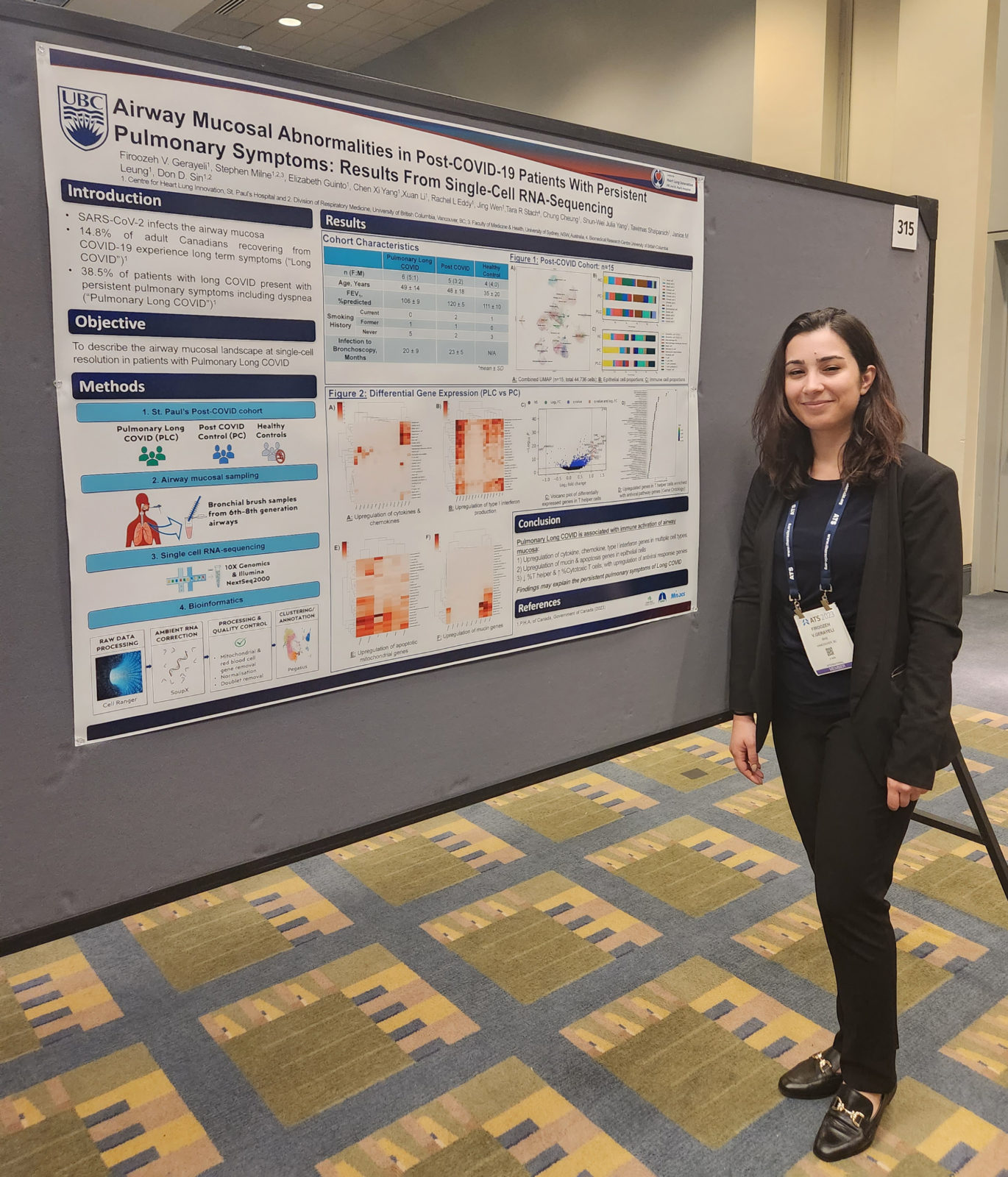 How was your experience at the conference?
Attending this conference has been one of the best experiences, as I had the opportunity to meet new individuals in the field, learn about cutting-edge research, and engage in valuable networking. Not only did I gain insights into up-and-coming research in the field, but I also had the chance to connect with professionals from both industry and academia who share similar interests. For example, I met Dr. Simon Rousseau, the Director of the Canadian Respiratory Research Network (CRRN). Dr. Rousseau's feedback on my work was invaluable, and he graciously shared the latest advancements in the field of long COVID. This enlightening discussion has influenced the direction of my current research, empowering me to think about the next steps in making meaningful progress in my work. Additionally, it was enriching to establish connections with colleagues from HLI (Hackett & Dorscheid lab) as we supported each other throughout our respective sessions, further enhancing my overall conference experience.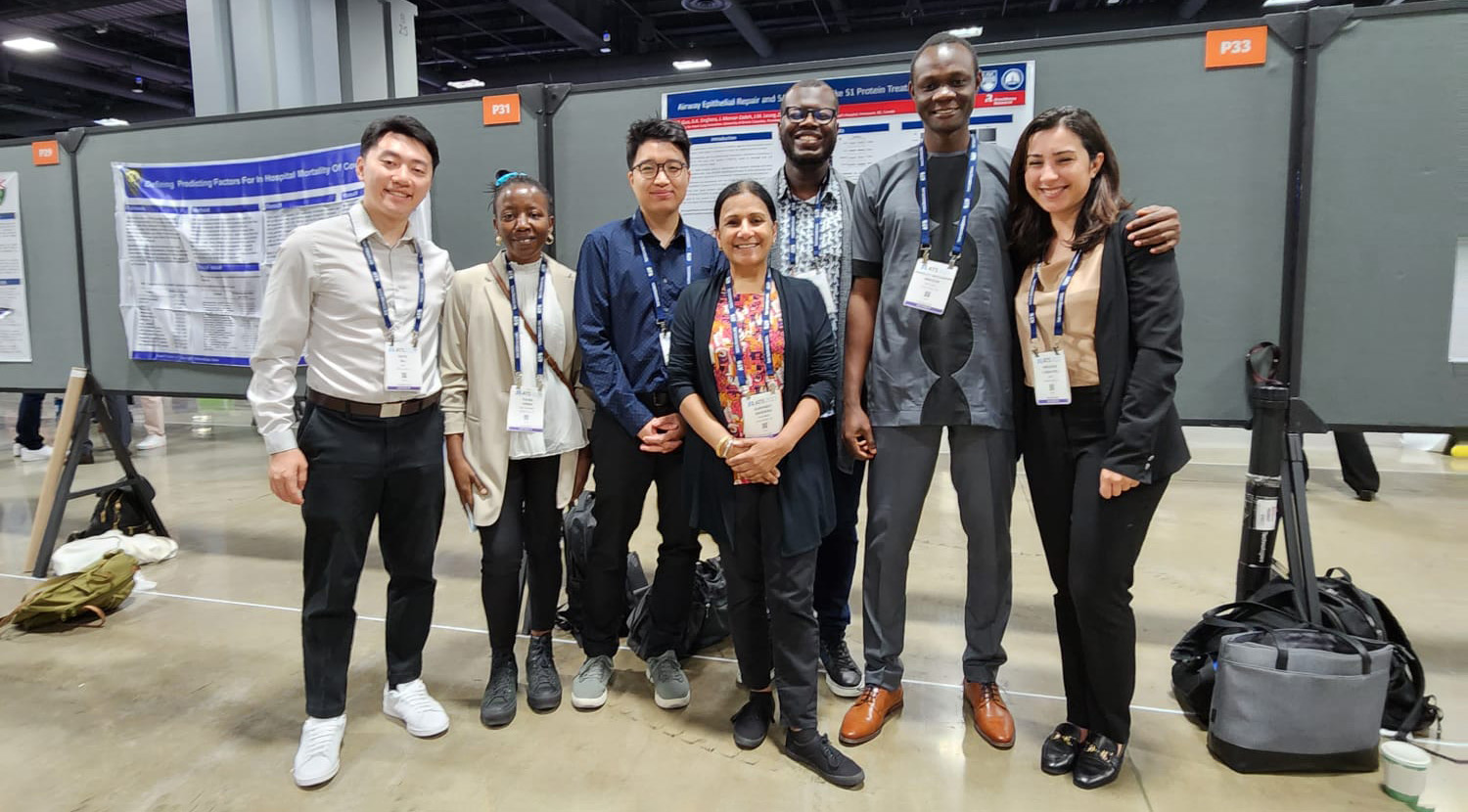 Would you recommend this conference to future trainees?
Participating in ATS was a highly beneficial experience that I wholeheartedly recommend to anyone given the opportunity. Personally, being at this conference not only provided valuable feedback on my research, but also offered insights for further developing my project and addressing challenges I encountered. Moreover, it facilitated the establishment of connections with professionals in both industry and academia. Additionally, I had the pleasure of meeting some of our current collaborators in person, strengthening our working relationship.
Anything else to add?
Trainees, you won't want to miss ATS next year! Trust me, it's a research bonanza filled with fantastic feedback and brain-boosting ideas to supercharge your projects. Plus, here's the cherry on top: next year's ATS will be in sunny San Diego. Talk about a research conference with a view!