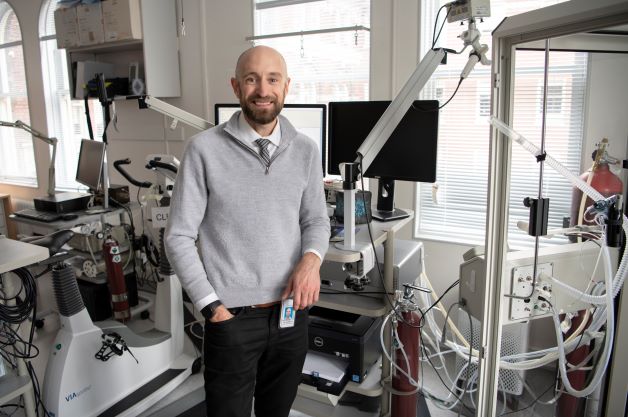 Jordan A. Guenette
Professor
About
Dr. Guenette received his BHK, MSc and PhD in Exercise and Respiratory Physiology in the Health and Integrative Physiology Laboratory within the School of Kinesiology at the University of British Columbia. He received additional research training in Cardiovascular and Respiratory Physiology at the University of Copenhagen and in the Department of Critical Care Medicine and Pulmonary Services at the University of Athens. Following his graduate training, Dr. Guenette completed a postdoctoral fellowship in clinical exercise and respiratory physiology in the Respiratory Investigation Unit in the Department of Medicine at Queen's University. Dr. Guenette is currently a Professor in the Faculty of Medicine at UBC, Director of the Cardiopulmonary Exercise Physiology Laboratory at St. Paul's Hospital, and is the Associate Director of the UBC Centre for Heart Lung Innovation. Dr. Guenette has received a number of awards and distinctions for his research including the Canadian Institutes of Health Research (CIHR) Clinical Rehabilitation New Investigator Award, Michael Smith Foundation for Health Research Scholar Award, Canadian Society for Exercise Physiology New Investigator Award, and the UBC Faculty of Medicine Distinguished Achievement Award for Overall Excellence. Dr. Guenette's laboratory is funded by the Natural Sciences and Engineering Research Council of Canada, CIHR, and the British Columbia Lung Association, among others.
Education & Training
BHK, School of Kinesiology, The University of British Columbia (2004)
MSc, School of Kinesiology, The University of British Columbia (2006)
PhD, School of Kinesiology, The University of British Columbia (2010)
Postdoctoral Fellowship, Department of Medicine, Queen's University (2012)
Area of Interest
The primary aim of Dr. Guenette's research program is to better understand the physiological factors that limit exercise tolerance across the spectrum of health and chronic respiratory disease. The lab uses a number of novel measurement techniques to simultaneously assess the respiratory, cardiovascular, sensory, muscular and neuro-physiological responses to exercise. His team conducts both mechanistic exercise physiology experiments and clinical trials in patients with ILD, cystic fibrosis, and COPD. The long term goal of this research program is to develop more effective rehabilitation interventions to improve exercise performance and quality of life for those suffering from chronic lung diseases.
Team Members
Satvir Dhillon, Research Assistant
Dr. Michele Schaeffer, Postdoctoral Fellow
Dr. Kate Milne, Postdoctoral Fellow
Nafeez Syed, PhD Candidate
Andrew Ramsook, PhD Candidate
Reid Mitchell, PhD Student
Olivia Hutchinson, MSc Student
Alanna Hind, MSc Student
Morgan Flynn, MSc Student
Lab Website
https://cpep.rehab.med.ubc.ca/
Publications