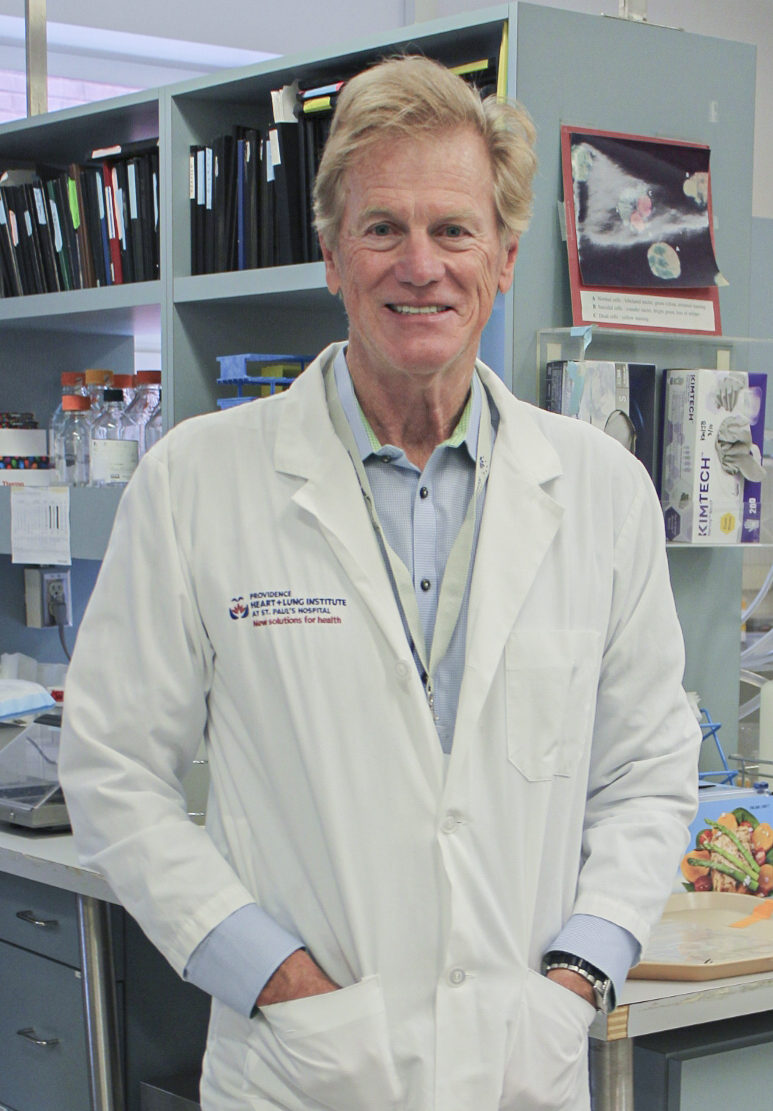 James A. Russell
Professor
About
Dr. Jim Russell is an intensivist and researcher whose works closely with Drs. Keith Walley and John Boyd to understand the pathophysiology, biomarkers and novel therapies of septic shock. Dr. Russell is ranked # 1 in the world in septic shock by the independent ranking organization Expertscape.
He has recently developed a CIHR-funded program of research in COVID-19. The COVID-19 pandemic led to CIHR-funded studies of the safety and effectiveness of angiotensin receptor blockers (ARBs) and angiotensin converting enzyme (ACE) inhibitors in COVID-19 in (1) a pan-Canadian observational cohort and (2) a pan-Canadian randomized controlled trial of losartan (an ARB) vs. usual care in adults hospitalized with COVID-19. Dr. Russel is also funded to evaluate the interactions of biological sex with outcomes of COVID-19.
Dr. Russell is on the editorial board of 5 journals and is a member of the British Columbia Coronavirus Medical and Scientific Committee and a Scientific Advisor of the Government of Canada COVID-19 Therapeutics Task Force.
Dr. Russell was also a recipient of the 2017 Aubrey J. Tingle Prize of the Michael Smith Foundation for Health research (MSFHR). "Created in honour of MSFHR's founding president & CEO, this award is given annually to a British Columbia clinician scientist whose work in health research has had a significant impact on advancing research and improving health, and the health system, in BC and beyond".
Education & Training
AB Biology and Biochemistry, Princeton University
MD, University of Toronto
FRCPC, University of Toronto and Toronto General Hospital
Critical Care and Research, University of California, San Francisco (UCSF)
Area of Interest
Dr. Russell has three major current themes of research (1) randomized controlled trials in patients with septic shock and now COVID-19, (2) biomarkers of septic shock and COVID-19, and (3) the interaction of diabetes and sepsis/septic shock. Dr. Russell's previous research themes have been occult tissue hypoxia and ventricular dysfunction in septic shock.
The clinical research success in sepsis is recognized in an invited review in the New England Journal of Medicine. Dr. Russell has had 4 senior author publications in New England Journal of Medicine and 4 publications in which he was a significant contributor indicating his major impact on the field of sepsis and septic shock.
Finding and validating new therapies in sepsis and septic shock has been difficult. Dr. Russell is enunciating a new tripartite strategy to increase the yield of breakthrough therapies in sepsis and septic shock by using (1) predictive biomarkers in trials with (2) response adaptive trial design and (3) focus on short-term organ dysfunction primary endpoint. Dr. Russell is focused on (1) PCSK9 inhibition and (2) inhibition of increased permeability (by administering the novel V1a agonist selepressin or a heparin-binding protein (HBP) protein blocker such as albumin).
In addition to his academic interests, Dr. Russell has been a co-founder of two UBC spin-off companies: Sirius Genomics Inc. a company that focused on discovery and development of pharmacogenomic kits (so-called predictive biomarkers) for drugs in sepsis and Cyon Therapeutics, now focused on development of a PCSK9 inhibitor in sepsis and septic shock.
Publications