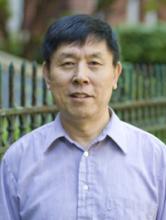 Decheng Yang
Professor Emeritus
About
Dr. Decheng Yang received his BSc in microbiology from Nankai University. He conducted his graduate studies at the University of Illinois at Urbana-Champaign, where he received his MSc in Plant Pathology and a PhD in Molecular Microbiology. He also received his postdoctoral training at the University of Illinois. In 1995, Dr. Yang began his academic appointment as an Assistant Professor at the James Hogg Research Centre, Department of Pathology and Laboratory Medicine, University of British Columbia. He was promoted to Associate Professor in 2001 and then to Professor in 2006, respectively. His research is supported mainly by Canada Institute of Health Research, National Sciences and Engineering Research Council of Canada and Heart and Stroke Foundation of Canada.
Education & Training
BSc, Nankai University
MSc, University of Illinois at Urbana-Champaign
PhD, University of Illinois at Urbana-Champaign
Postdoctoral training, University of Illinois at Urbana-Champaign
Area of Interest
Dr. Decheng Yang's research programs focus on the molecular biology and pathogenesis of coxsackievirus B3 (CVB3)-induced myocarditis. Ongoing research projects include:
1) molecular mechanism of CVB3 replication, specifically focusing on the identification of cellular 5'TOP (Terminal oligopyrimidine tract) RNA, a group of cellular mRNAs encoding various components of the translation apparatus, in regulation of CVB3 transcription and translation.
2) Epigenetic analysis of N6-Methyladenosine (m6A) methylation profile of viral and cellular mRNAs in determining viral replication efficiency and pathogenesis of viral myocarditis.
3) Host gene response to viral infection.
By using genetically modified human iPSC-derived cardiomyocytes and inducible heart-specific gene knockout mice as models, Dr. Yang's group studies host-viral interaction, particularly the roles of viral and cellular proteases in the pathogenesis of virus-induced heart diseases. These studies are aimed to identify key genes involved in signal transduction pathways leading to cardiomyocyte hypertrophy or injury/death. The identified novel genes may serve as potential targets to design nucleic acid-based therapeutics (siRNA, artificial miRNA) for the treatment of the disease.
Team Members
Huifang Mary Zhang, Research Associate
Guangze Zhao, PhD Student
Fengping Wang, Visiting Postdoctoral Scientist
Sana Aghakeshmiri, NSERC Undergraduate Student
Publications