Congratulations to the newest recipients of the Michael Smith Foundation (MSFHR) Research Trainee Awards! The MSFHR Research Trainee Program supports health researchers in the training phase of their research career to enable career development and the long-term success of the BC health research landscape.
This year, three HLI postdocs were among 43 award recipients.
Dr. Rachel Eddy is a postdoctoral fellow who will be co-supervised by Drs. Don Sin and Jonathon Leipsic. She recently completed her PhD at the University of Western Ontario, and will be using pulmonary MRI and other imaging techniques to measure airway abnormalities in patients with asthma, COPD, and asthma-COPD overlap. Dr. Eddy's award is co-funded by St. Paul's Foundation.
Dr. Alex Franciosi is a postdoctoral fellow in Dr. Brad Quon's group. His project will be focused on analyzing samples from patients with cystic fibrosis to identify biomarkers that can predict exacerbation cause, allowing for physicians to employ tailored treatment and care.
Dr. Alyson Wong is a practicing Respirologist and a Clinical Instructor in the Department of Medicine at UBC. Her project will explore how quality of life changes for patients with interstitial lung disease (ILD). This data will be used to create an algorithm that can provide economic evaluations for ILD drugs, in order to guide decisions on funding effective treatments in ILD. Dr. Wong's award is co-funded by St. Paul's Foundation.
Full biographies of award recipients and funded projects can be found on the MSFHR website: https://www.msfhr.org/2020-research-trainee-award-recipients
SARS-CoV-2, the virus responsible for the global COVID-19 pandemic, causes a range of symptoms with great variability in the severity of disease. Funded by a Michael Smith Foundation for Health Research grant, Dr. Mari DeMarco and a team of virologists, microbiologists, and physicians are developing a new diagnostic blood test for COVID-19. This test will only require a few drops of blood, and will predict how patients will respond to the infection – whether they will potentially develop severe illness, or easily fight off the virus. This will allow physicians to direct care to the most vulnerable, and enable public health resources to be effectively distributed and implemented to where they are most needed.
Read more about Dr. DeMarco study: http://thedailyscan.providencehealthcare.org/2020/07/blood-test-could-prevent-covid-19-patients-from-getting-sicker/
Dr. Jim Russell, a Principal Investigator at the HLI, has recently been awarded $3.5 million in federal funding to start a clinical trial for COVID-19. This multi-site trial, involving several sites across Canada, will evaluate the effectiveness of Losartan in reducing morbidity and mortality in patients hospitalized with COVID-19. Losartan is a drug that is normally prescribed for high blood pressure and other cardiovascular diseases. This class of drugs has been shown to reduce lung injury in influenza (flu), which is caused by a virus that uses similar mechanisms as SARS-CoV-2, the virus that causes COVID-19.
This trial is the next step for Dr. Russell's observational study that was also funded by CIHR's initial investment for COVID-19 in March 2020.
Read more about this study: http://thedailyscan.providencehealthcare.org/2020/06/st-pauls-hospital-researcher-receives-3-5-million-for-covid-19-drug-trial/
Between May 4-8, 2020, the UBC Centre for Heart Lung Innovation (HLI) was proud to host the first-ever Faculty of Medicine Career Week virtually via Zoom Webinar.
Despite ongoing physical distancing measures due to the COVID-19 pandemic, the HLI Trainee Association, supported by Education Director Dr. Scott Tebbutt and Research & Industry Partnerships Manager Dr. Tony Yang, organized an exciting program of week-long events with the Faculty of Medicine Postdoctoral Professional Development Team.
These virtual sessions started daily at 2 PM and the program included career panels featuring 17 experts in Industry Research and Development, Academic Research and Teaching, and Non-Traditional Careers, as well as two new workshops: the first focused on building an on-line network and LinkedIn profile, and the second on how to effectively use Twitter for scientific communication. These sessions were carefully planned and organized to provide research trainees career insights and new skills critically needed during these unprecedented and challenging times.
Over 422 participants registered to participate in the online events (almost 4 times the usual registration), with participants coming from the HLI, Providence Health Care Research Institute (PHCRI), BC Children's Hospital Research Institute (BCCHRI), Centre for Blood Research (CBR), Vancouver Coastal Health Research Institute (VCHRI), BC Cancer Research Centre (BCCRC), UBC School of Biomedical Engineering (SBME), Experimental Medicine, and numerous other UBC units. There were even several participants from outside of UBC!
Each session was moderated by key members of the HLI Trainee Association, who expertly navigated the Zoom Webinar environment: introducing speakers, encouraging attendee participation, leading Q&A sessions, and soliciting feedback from all participants. Congratulations to Carleena Ortega, Daniel He, Diana Vikulova, Nancy Yang, and Simran Samra!
During the career panels, participants gained insight into "what it takes to land a job" and "how to build a unique career path" (whether in industry, academia, or elsewhere). The panelists provided honest advice and an "insider view" of their jobs – discussing their work-life-balance, daily tasks and duties in their given role, and what they wish they had known when they were a research trainee. Participants were given ample time to ask questions, either directly to the panelist of their choice, or to the entire panel.
A major theme throughout the week was the importance of building a diverse professional network on-line. In the LinkedIn workshop, the trainees learned the importance of having an updated and relevant LinkedIn profile, and how to use this platform to network and connect with other professionals from different backgrounds. In the second workshop, attendees were provided with some tips and tricks for disseminating their research findings via Twitter. They also learned about new ways that Twitter is being used, such as for technical troubleshooting and virtual Twitter conferences.
The Virtual Career Week 2020 was supported by the UBC Faculty of Medicine Strategic Investment Fund, secured by the HLI in collaboration with SBME and Experimental Medicine. The event program was organized by UBC FoM Postdoctoral Professional Development Team: FoM Graduate and Postdoctoral Education, HLI Trainee Association, PHCRI, BCCHRI, CBR, VCHRI, and BC Cancer GrasPods. For a list of Panelist and Workshop Presenters, please visit https://grad-postdoc.med.ubc.ca/postdocs/career-day/ for more information.
A Growing Habit
On October 17, 2018, Canada became the second nation in the world to legalize recreational cannabis. Only half a year after legalization, 18% or 5.3 million Canadians already reported using cannabis, primarily through smoking.
Given that 4.9 million Canadians smoke cigarettes, these statistics indicate that cannabis smoking has already surpassed cigarette smoking. Yet while the popularity of tobacco smoking has steadily fallen over the years, the number of people smoking cannabis is only expected to increase.
Too Many Unknowns
Despite the legalization of recreational cannabis and its increasing popularity, there is little to no information about the impact of cannabis smoking on lung health. Public perception of cannabis smoking has become more and more favourable over time, with the proportion of subjects perceiving its associated risks declining – only 40% of regular cannabis smokers believe that it causes considerable harm to their lungs. Given the well-documented health effects of smoking and tobacco use (including cancer, heart disease and lung disease, among others), this is a cause for major concern.
Need for New Evidence
In response to this lack of concrete evidence on health and safety effects of cannabis, the Canadian Institutes for Health Research (CIHR) committed $19.5 million to support 13 studies focusing on understanding the health, safety, as well as behavioural, social, cultural, ethical and economic impacts of cannabis legalization. Centre for Heart Lung Innovation researcher Dr. Janice Leung and co-applicants Drs. Don Sin, Wan Tan, Jonathon Leipsic, Andrea Gershon, Miranda Kirby, Grace Parraga, and Mohsen Sadatsafavi, were ranked the top application out of 52 proposals.
Canadian Users of Cannabis Smoke (CANUCK) Study
Dr. Leung's study, entitled Canadian Users of Cannabis Smoke (CANUCK): Impact on Lung Health via Clinical, Imaging, and Biologic Measures, will study the effects of cannabis smoking on lung health. The CANUCK study will use a combination of clinical measures, state-of-the-art imaging systems, and molecular profiling to measure the health outcomes and extent of structural and cellular damage to the lungs of cannabis smokers.
"Our goal is to figure out whether cannabis smoking has a detrimental impact on lung function and respiratory health in a way that might be similar to tobacco smoking."

"This new funding will allow us to gain a really complete understanding of cannabis smoking, from how much it costs our health care system all the way down to how it might change the cells in your lung. This information will help to better inform Canadians about the consequences of cannabis smoking."


Dr. Janice Leung, lead investigator of the CANUCK study.
Alzheimer's disease is a progressive, degenerative brain disease that causes memory impairment and deterioration of thinking ability. Current diagnosis depends on physician evaluation of the signs and symptoms of neurodegeneration, coupled with traditional imaging. By the time most people are diagnosed, they often already have significant mental decline and cognitive impairment. Accurate and timely diagnosis is important to ensure that a patient receives the right treatment (which is most effective if provided early), and that, together with family and caregivers, they have the ability to plan for the future.
Measuring the levels of two proteins (amyloid-beta and tau) in cerebrospinal fluid has been shown to help correctly identify those with Alzheimer's disease. Such testing, which can be performed early-on in the disease course, can predict whether mild symptoms are likely to progress to dementia. Although in
many countries, measuring amyloid-beta and tau is now part of routine practice, in Canada, there still exist barriers that prevent implementation of this test in routine care.
HLI Principal Investigator Dr. Mari DeMarco is the lead investigator on IMPACT-AD, a Canada-wide study that aims to bridge the gap between diagnostic accuracy studies and clinical utilization and implementation of these biomarker tests. IMPACT-AD will determine how the testing for these Alzheimer's disease biomarkers impacts medical and personal decision making, as well as health care costs. The goal of the study is to inform positive change in the health care system and improve care and support for patients living with Alzheimer's, and their families.
If results are positive, this could pave the way for biomarker testing to
become part of routine Alzheimer's disease care in Canada. Learn more
about the study in The Daily Scan: here and here. For more information,
visit: https://www.impactad.org/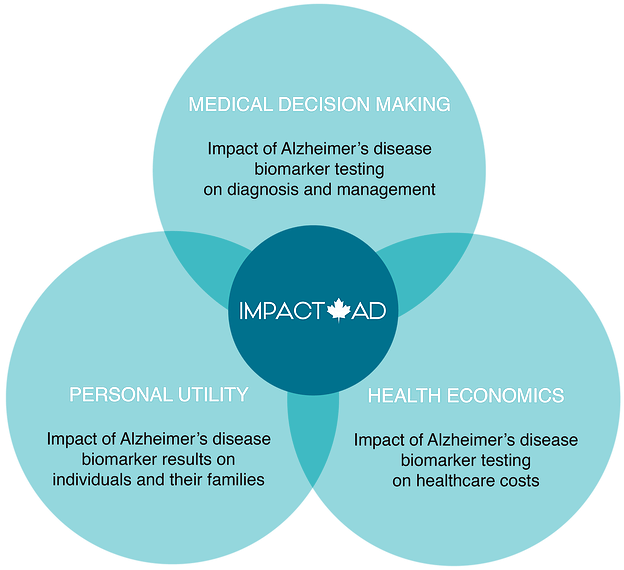 High density lipoprotein (HDL) is an important component of the innate immune system, and contributes to pathogen clearance by sequestering and removing pathogen lipids from circulation. During sepsis, HDL cholesterol (HDL-C) levels drop, and lower HDL-C levels are associated with worse clinical outcomes, such as prolonged hospital admission and death.

In this study published in the American Journal of Respiratory and Critical Care Medicine, Mark Trinder, a PhD candidate at HLI in Dr. Brunham's lab, and their team found that genetic variation in cholesteryl ester transferase protein (CETP) influences HDL-C levels and clinical outcomes during sepsis. More specifically, the team found that elevated CETP activity was associated with a gain-of-function CETP variant, leading to an exacerbated decline in HDL-C and lower survival rates in sepsis patients. These findings may form the basis for future studies to examine the feasibility of inhibiting CETP to increase HDL-C levels and improve outcomes for sepsis.
Chronic obstructive pulmonary disease is a group of chronic lung diseases characterized by poor airflow with prognoses that vary dramatically from mild symptoms to death. A challenge for effective COPD management is for clinicians to accurately stratify patients according to risk of disease progression.
The microbiome refers to the collection of microorganisms (such as bacteria, virus, fungus, etc) in an ecosystem. In this study funded by Genome Canada, Genome BC, and St. Paul's Hospital Foundation, sputum, which consists of saliva and mucus, was collected from 102 COPD patients, and the researchers discovered a correlation between the composition of the patient sputum microbiome and 1-year mortality in COPD patients who were hospitalized due to an acute event. Dr. Sin and his team found that patients who did not survive one year after discharge had less diverse sputum bacterial populations. The researchers also discovered that the patients had worse survival if they had the bacteria Staphylococcus or did not have Veillonella bacteria in their sputum.
This work suggests that COPD patient sputum may be used to identify specific at-risk patients for closer monitoring following discharge from the hospital.
First author Fernando Sergio Leitao Filho is a HLI postdoctoral fellow and a recipient of the Canadian Institutes of Health Research ICS Travel Award and American Thoracic Society Abstract Scholarship.