A growing trend
Vaping, or the act of inhaling aerosols generated by e-cigarettes, is quickly increasing in popularity. Although initially marketed as a smoking cessation tool and a safer alternative to tobacco, the use of vaping products has now extended to youth, likely due to the large variety of available flavours and discreet vaping devices. In fact, experts in this Global News interview say that up to 1 in 5 adolescents have vaped in the last month – more than the number of youth who have ever tried cigarettes. However, the impact of vaping on lung health is still not completely understood.
Dr. Chris Carlsten, a Principal Investigator at the HLI and Head of the Respiratory Medicine division at UBC, warns about the potential toxicities and consequences associated with vaping.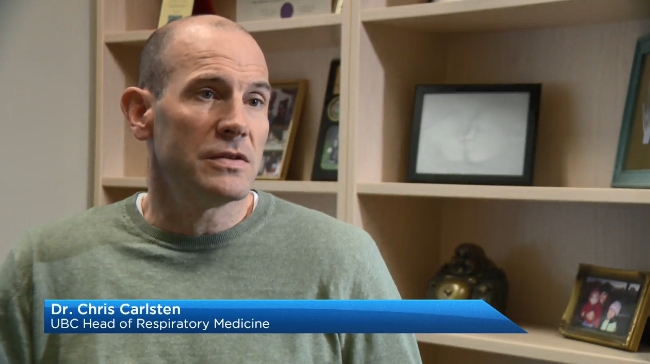 "I fear that it may be smoking 2.0. We're inhaling into our lungs chemicals that are not chemicals that the lungs typically see, many of which are known to be toxic."

Dr. Chris Carlsten
Vaping-related illnesses
By September 2019, a CTV News report indicated that six people have died from vaping-related illnesses, with hundreds more hospitalized. Shortly after, a Daily Scan article reported that the death toll had reached 12, and the first Canadian case of a vaping-related lung illness was reported in Montreal.
Although it is unclear why and exactly how these fatal respiratory diseases occured, Dr. Carlsten and colleague, Dr. Don Sin (Director of HLI and Canada Research Chair in Chronic Obstructive Pulmonary Disease) believe it has to do with certain chemicals in the vaping liquids. Individuals with pre-existing
conditions like asthma may also be more susceptible to vaping-related lung injuries.
While further research is warranted, experts agree that stricter regulations
are needed to prevent further adverse health outcomes, particularly for
new users and youth.
Read more in Global News, Toronto CityNews, and the Vancouver Sun.